Political Divides, Conspiracy Theories and Divergent News Sources Heading Into 2020 Election
43% of Republicans identify fraud as a major problem with voting by mail versus 11% of Democrats
As the nation heads toward Election Day in the midst of a persistent pandemic and simmering social unrest, a new Pew Research Center survey finds that Americans' deep partisan divide, dueling information ecosystems, and divergent responses to conspiracy theories and misinformation are all fueling uncertainty and conflict surrounding the presidential election.
While Americans across the political spectrum have been getting information about key election-related storylines, their knowledge and opinions about these issues – as well as the candidates themselves – differ strikingly based on their party affiliation and key news sources, according to the new survey, conducted Aug. 31-Sept. 7, 2020, as part of the Center's American News Pathways project.
One central issue creating confusion in this campaign is the reliability of voting by mail, which figures to be more widespread than ever this year as people try to avoid crowded polling places during the coronavirus outbreak. President Donald Trump has repeatedly promoted the unsupported idea that mail-in voting will lead to significant fraud and has put the U.S. Postal Service in the campaign spotlight.
While evidence indicates that mail-in voting is associated with only minuscule levels of fraud, 43% of Republicans and Republican-leaning independents identify voter fraud as a "major problem" associated with mail-in ballots. By contrast, only 11% of Democrats and Democratic-leaning independents say the same thing.
Moreover, Republicans' views vary dramatically depending on the news sources they use. The survey asked respondents whether eight news providers are major sources of political and election news for them. Researchers then grouped these responses based on the political composition of the outlets' audiences. For example, Republicans were analyzed based on the degree to which they get political news from the outlets with conservative-leaning audiences, and Democrats were categorized based on the degree to which they get news from the outlets with liberal-leaning audiences. (See the box below for details on the study design.)
About six-in-ten (61%) of the Republicans whose only major sources of election news (among the eight asked about) are those with right-leaning audiences – talk radio and/or Fox News – say mail-in voter fraud is a major problem. But that figure falls to 23% among Republicans whose major news sources do not include talk radio or Fox News.
Among Democrats, meanwhile, those who get election news only from one or more of the five major sources with left-leaning audiences (MSNBC, CNN, NPR, The New York Times and The Washington Post) are about twice as likely as those whose major sources do not include any of these outlets to say that mail-in voter fraud is "not a problem at all" (67% vs. 35%).
Other factors beyond media diet may impact people's views of election-related issues, including the potential for fraud in mail-in voting. And someone's media diet can be selected to fit their existing political views or be a significant factor in shaping those political views. Still, the data shows a clear connection between news diet within party and views on this issue.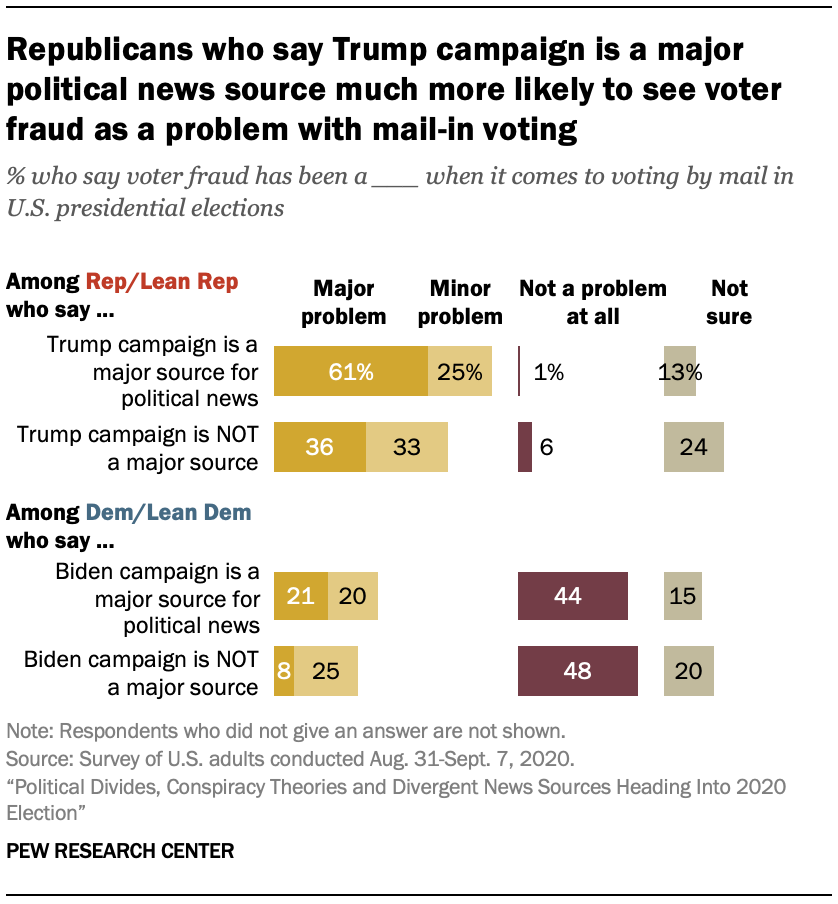 Another factor associated with perceptions among Republicans is whether the Trump campaign itself is a major source of political and election news for them. Of those who say it is, 61% see mail-in fraud as a major problem. But among Republicans who do not use the Trump campaign as a major source of news, far fewer (36%) say the same.
There is little to no difference among Democrats based on whether or not they turn to Joe Biden and his presidential campaign as a major news source.
Conspiracy theories in the election's backdrop
During this campaign, public attention to the once-obscure QAnon – a collection of connected conspiracy theories that has been declared a domestic terror threat by the FBI – has grown, with a few "Q" proponents running for Congress and Trump expressing support for at least one of them. The percentage of Americans who say they have heard "a lot" or "a little" about QAnon has roughly doubled from 23% in March to 47% in the new survey.1 Democrats are somewhat more likely to have heard at least a little about these theories than Republicans (55% versus 39%, respectively).
In this environment, the QAnon conspiracy theories have become another area of partisan divide. An overwhelming majority of Democrats who have heard something about QAnon (90%) say it is at least "somewhat bad" for the country, including 77% who say it is "very bad." But 41% of Republicans who have heard something about it say QAnon is somewhat or very good for the country, modestly fewer than the 50% who think it is at least somewhat bad.
Democrats who have heard at least a little about QAnon are united in the perception that Donald Trump seems to support people who promote the conspiracy theories, with 81% taking this position. Just 27% of Republicans agree with this statement, and even fewer (11%) say Trump opposes QAnon promoters; the remainder say he neither supports nor opposes them (27%) or that they aren't sure (34%).
Americans' views of candidates, issues diverge by party and political news sources
For much of this year, this presidential election has been conducted against the backdrop of two nation-altering events – a once-in-a-century pandemic and widespread social justice protests sparked by the police killing of George Floyd. Both are potentially decisive issues in the presidential campaign. (For more on the public's attitudes about the protests, click here.)
Americans' responses to questions connecting the candidates to these issues reflect profound differences not only in perception, but sometimes in knowledge and understanding of central facts.
With Trump having raised the specter of delaying the elections because of the pandemic, a large majority of Democrats (82%) correctly say he does not have the legal authority to do so under current laws. About half of Republicans (49%) say the same, but the remainder say either that he does have the authority (16%) or that they are unsure if he does (35%).
In light of the social justice protests and some violence that has accompanied them, the Trump campaign has accused Biden of wanting to defund the police, a position that has been embraced by some activists. Biden has said he does not support defunding the police, but would consider redirecting some police funds to services like mental health counseling.
About half of Democrats (52%) say that Biden has not publicly voiced his support for defunding police, nearly three times the percentage of Republicans who say the same (18%). And Republicans who use Fox News and/or talk radio as their only major sources of political news are far more likely than those who rely only on other news sources to say Biden has come out in support of defunding the police (66% vs. 27%).
There also are differences among Democrats based on their news diets: Those who rely only on at least one of the five major outlets with left-leaning audiences are more likely than Democrats relying on other sources to say that Biden has not publicly supported defunding the police (71% vs. about half or fewer). Democrats whose major news sources do not have a left-leaning audience are divided between those who say Biden has not voiced his support for defunding the police (43%) and those who are unsure (44%).
The Republican campaign has also at times criticized the Democratic ticket as too far left. In the case of Democratic vice presidential nominee Kamala Harris, about half or more in both parties correctly identified her as a former California attorney general. But on the question of her ideology, as can often be the case, there are huge gaps between the party that nominated her and the one running against her.
While a tiny fraction of Democrats (4%) see Harris as holding "very liberal" views, about half of all Republicans (52%) characterize her as very liberal. To Republicans, she appears to be liberal, while Democrats see her as more moderate. Among Democrats, 20% say she is "mostly liberal," 19% say she is "slightly liberal" and 22% say she is "moderate." Additionally, about one-in-ten Democrats (11%) say that Harris is a conservative.
Evaluations of Harris' ideology also highlight differences within the GOP by media source. Fully 83% of Republicans who use only talk radio and/or Fox News as major news sources say Harris is very liberal. But only about half as many Republicans who use Fox News or talk radio along with a mix of other outlets (44%) characterize her that way. And among Republicans who do not use either Fox or talk radio as major sources, only about quarter (24%) describe Harris as very liberal. Among Democrats, there are minimal differences based on media diet.
The same American Trends Panel members were sampled for the March survey and the current survey. This raises the possibility that some of the increase in QAnon awareness is attributable to re-asking the same people. Several studies have found significant effects from this measurement issue (known as panel conditioning) on knowledge questions. While this study provides strong support for a real increase in Americans' awareness of QAnon, this data offers only a rough approximation for the exact size of that increase due to this limitation. Studies have found little to no conditioning effects on survey questions unrelated to knowledge about particular topics. ↩